The art market was reserved for a circle of connoisseurs: collectors, junk dealers, antique dealers, gallery owners, auction houses, but since the appearance of digital works of art and virtual currencies, new ways to collect art have emerged: NFTs.
Definitions
Let's introduce the concepts necessary to understand the phenomenon
Blockchain
Blockchain is a network for exchanging evidence. It is a technology that allows information to be stored and transmitted transparently, securely and without central control body.
Source:
Journal du Net
Example of a homemade blockchain: in a family, the 3 children Pierre, Paul and Jack have to take turns doing the dishes. In order to avoid confusion between brothers, the parents decide to set up a blockchain in the kitchen: a transparent glass box is installed and closed by 3 padlocks, each of whose sons receives a key. When Pierre has finished the dishes, he calls his brothers who come to see that this is the case then open the box and Pierre places a red token in it. Paul has yellow chips and Jack green. With this system, everyone can see at any time how many tokens are in the box and you can't cheat since all the members must be present to validate the opening of the box.
Crypto-currencies
A cryptocurrency is a digital currency issued peer-to-peer, without the need for a central bank, usable by means of a decentralized computer network.
Source:
Wikipedia
The best known cryptocurrency is Bitcoin created by a mysterious character or group named Satoshi Nakamoto whose identity remains unknown.
Bitcoin is inseparable from the blockchain because it is the creation of this technology based on cryptography that makes it possible to secure exchanges. Since then, new blockchains have been created with more or less difference from that of Bitcoin and serve as support for other crypto-currencies. For example, the blockchain Ethereum has ether as its currency
NFTs
The acronym stands for Non-Fungible Token. This is a file to which is attached a digital certificate of authenticity stored on a blockchain.
Source:
Futura Science
By making it possible to make a digital file unique, owning an NFT amounts to acquiring exclusive ownership of the associated work. The creator still retains his copyright. The buyer then owns the right to publish the work online.
What NFTs change for creators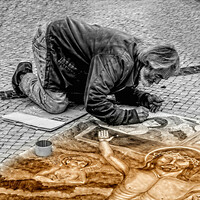 No more need to find a gallery where to exhibit since the web is a global gallery open day and night. The barrier or glass ceiling that existed "in the old world" is abolished. No need for a piston or networking to hope to sell his works.
That doesn't mean everything is rosy, if the price of the crypto you sold your NFTs in crashes, after converting to euros there might not be much left. But that's the principle of innovations: they are unstable at first before stabilizing... or disappearing.
If access to the art market becomes as simple as a click, there is no doubt that the competition will quickly be formidable and that if we make art to sell it, we will have to or be in a promising niche such as Street Art or be one of the first to arrive to benefit from the windfall effect reserved for pioneers, as is the case for the Nigerian artist Osinachi whose paintings made on Word sell for the equivalent of a few tens of thousands of euros!
What NFTs change for collectors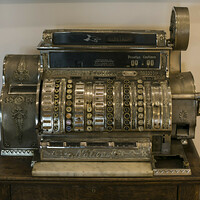 The quantity of collectible "objects" goes from a limited number in the physical world to a potentially unlimited quantity since digital: virtual cards of football players, animated gif, photo, tweet, patent, concert place ...
What changes is therefore rather the state of mind of collectors: it is reasonable to think that an old and rare piece of furniture has an intrinsic value if only by its practical utility when it is quite difficult to imagine what the purchase of a Donald Trump tweet can bring if not to inflate your ego in an auction or to be a speculator who hopes to resell it more expensive.
However, there is a happy medium that can be found with, for example, the purchase of pieces of music whose exploitation of copyright could produce "dividends".
By definition any investment carries a risk and this risk is increased tenfold by the new technologies used and the volatility of the virtual art market. It is therefore reasonably based on your risk profile that you will choose to enter this market and the sums that you will invest.
To see and invest in crypto-art, the following platforms are the most famous at the moment:
What NFTs change for traditional players
Traditional houses like Sotheby's are starting to accept payment in crypto as was the case for the first time in May 2021 during the auction of a work by Banksy titled "Love is in the Air".
The most likely change is to see successful digital artists being "recovered" by gallery owners: the risk-taking is indeed minimal to exhibit an artist who already has a small success on the Web. In this case NFTs could be seen as "incubators".
Conclusion
While we can rejoice in the democratization of access to the art market, we will nevertheless remain extremely cautious about acquiring virtual goods strong> with the dangers that entails.
At a time when artists have seen their means of expression as well as their income reduced due to the health crisis, we can hope that these technologies will make it possible to continue to finance some of them without falling into pure financial speculation.
Article created on wednesday, february 16, 2022
Other articles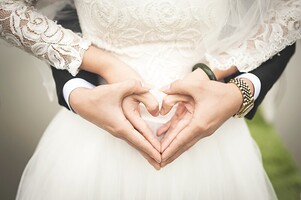 How to become a wedding photographer ?
Working in a festive atmosphere is necessarily tempting, less risk of burnout. However your professionalism and your artistic qualities will make all the difference in building your reputation and your address book essential to a profitable economic activity.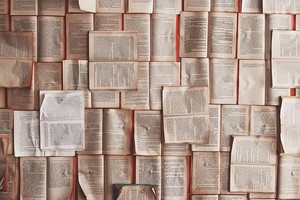 How to publish your first novel ?
The culmination of a passion for some, peer recognition for others or even the Grail for those who wish to live from their art, the publication of a first book is an initiatory journey which will perhaps give birth to an artistic object having an autonomous existence like a childbirth.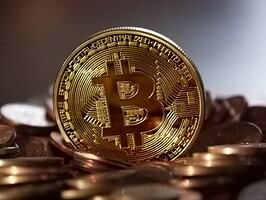 Why are cryptos shaking up the art world with NFTs ?
The art market was reserved for a circle of connoisseurs: collectors, junk dealers, antique dealers, gallery owners, auction houses, but since the appearance of digital works of art and virtual currencies, new ways to collect art have emerged: NFTs.